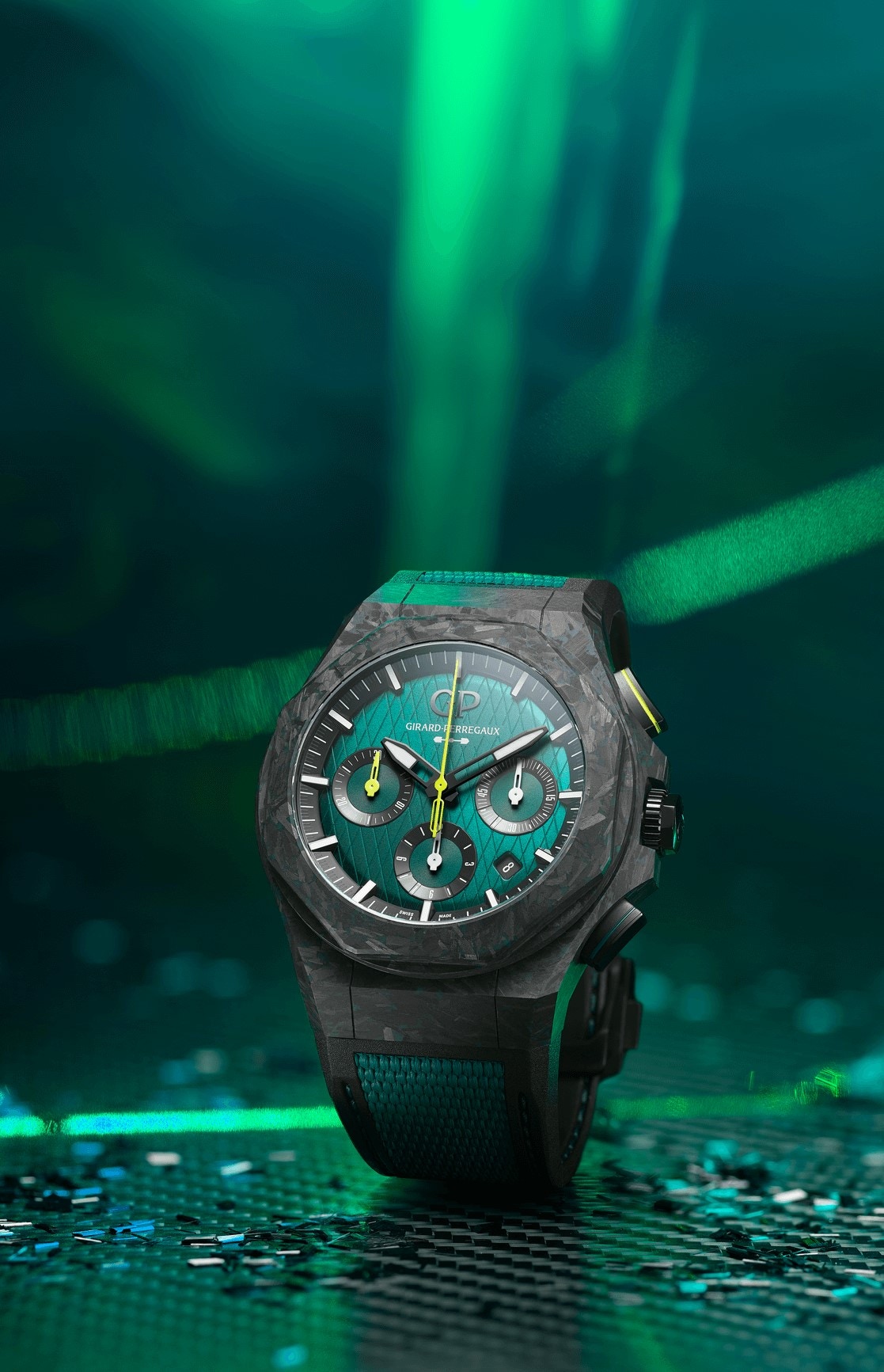 Bridging Passion with Performance
The new Laureato Absolute Chronograph Aston Martin F1 Edition
In the fusion of brands, where the passion of Girard-Perregaux aligns with the performance of Aston Martin Aramco Cognizant Formula One™ Team (Aston Martin F1), a single word denotes truth. Time. For Girard-Perregaux it is time that drives innovation, mastering its record in our watches. For Aston Martin F1? A mere fraction of a second in this high stakes, speed-sensitive sport is critical.
In 2021, Girard-Perregaux was delighted to announce its partnership with Aston Martin. It is a brand that resonates and reverberates the world over, synonymous with the best of British engineering. In its Aston Martin F1 racing guise, Aston Martin continuously researches innovative materials with the promise of precious weight savings. Here, the Aston Martin F1 Team has brought its incredible understanding of lightweight materials to the world of high watchmaking, notably, iconic Laureato.
The new Laureato Absolute Chronograph Aston Martin F1 Edition is manufactured from the same discerning materials used to build the cars of the Aston Martin F1 Team. It is composed of titanium powder and carbon elements taken directly from two Season 2021 Aston Martin F1 racing cars, in a horological first of its kind. Individual components are melded and mixed with a tinted resin. The result is a material of superior ductility to steel. Like the individuals privileged to own one, each watch has it's own distinct visual identity, uniquely different to any other timepiece in the world. Synergy done right, is rare. With the Laureato Absolute Chronograph Aston Martin F1 Edition, Girard-Perregaux and Aston Martin have achieved an alignment of design and performance, from the deafening roar of the racing engine to the silent tick of this world-first watch.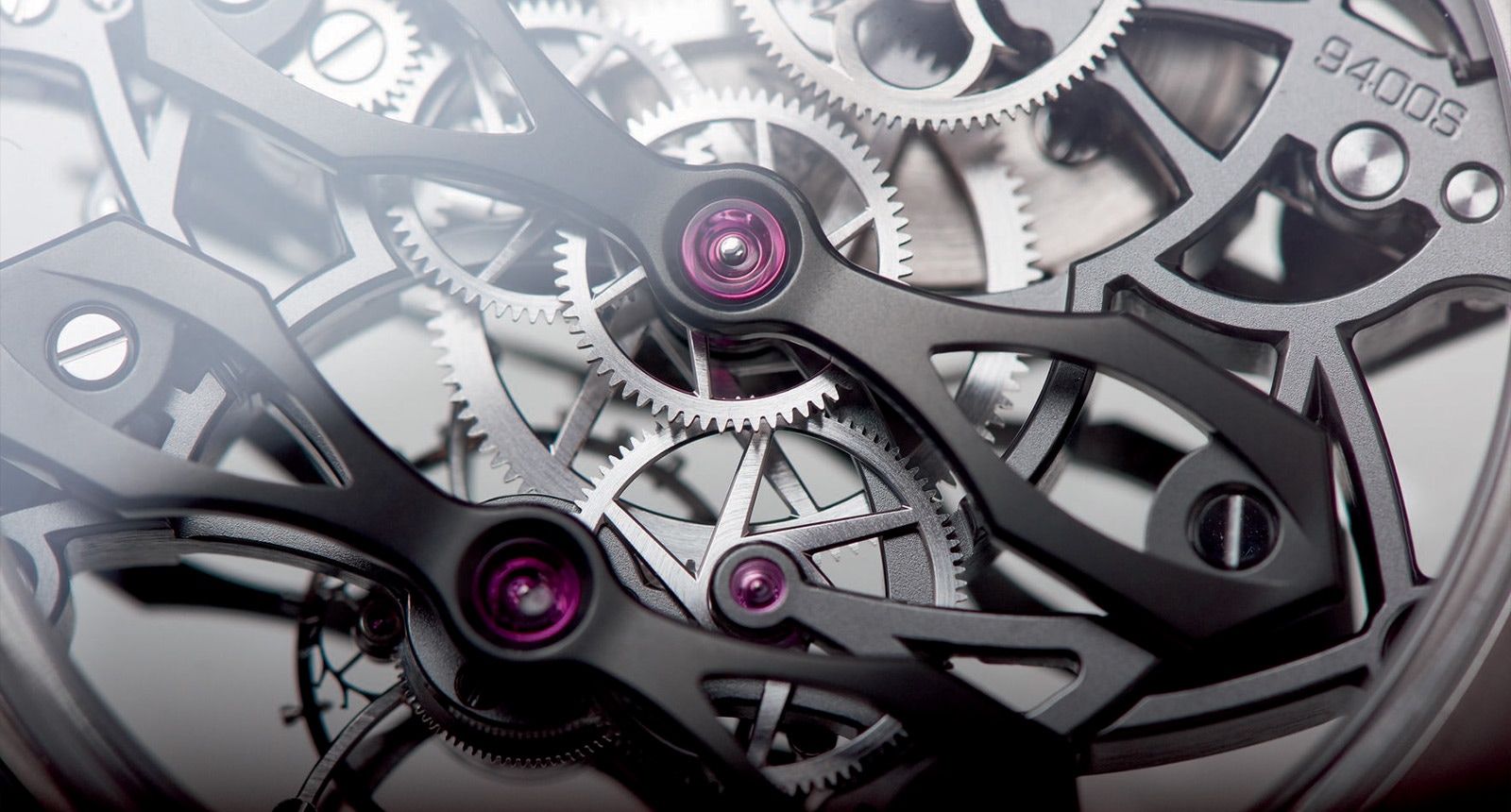 A partnership that goes above and beyond products, Girard-Perregaux and Aston Martin are now a driving force, on the road to creating a world of distinction.
Settling behind the wheel of an Aston Martin, or adorning your wrist with a Girard-Perregaux watch, bring similar states of serene satisfaction. Famous partnerships have always typified innovation at Girard-Perregaux, right back to our earliest days in the 18th Century, with horological luminary Jean-François Bautte.

So it is again with Aston Martin; a global marque of excellence that shares many of the same values upon which Girard-Perregaux has built its own reputation over the centuries. Style, elegance, performance, and above all the driving desire to embody passion in the cars and timepieces we produce denote our synergy. Our partnership is now a friendship, and we will continue to spin the wheels that make our respective worlds whir with exceptional creativity, aesthetics and performance.
Heritage
Girard-Perregaux and Aston Martin lead their respective worlds of automotive and horological excellence, built on tradition. Each company has a heritage along which iconic moments mark the way. Watches and cars that have entered into the mythology of luxury and performance that are instantly recognizable today as design classics – the past forever informing the present, on into the future.
Aesthetics
Connoisseurs of the finer things in life have at the heart of their passions a certain hedonism. It is holistic, in that they seek the perfect amalgam of form and function. Which is why both Girard-Perregaux and Aston Martin register so highly with the modern connoisseur. Both companies are individualistic in their pursuit of perfection: thrilling, delighting and forever surprising lovers of fine quality items.
Craftsmanship
Visions as pure as those of Aston Martin and Girard-Perregaux rely on advanced, technical and engineering brilliance. But very often, it is the craft of centuries-old skills that find finish in the fingers of our gifted teams. Every car, every watch receives the attentive eye and loving caress of our skilled artisans. So whether driving or wearing, you know that the sheen of expertise is around you, upon you.