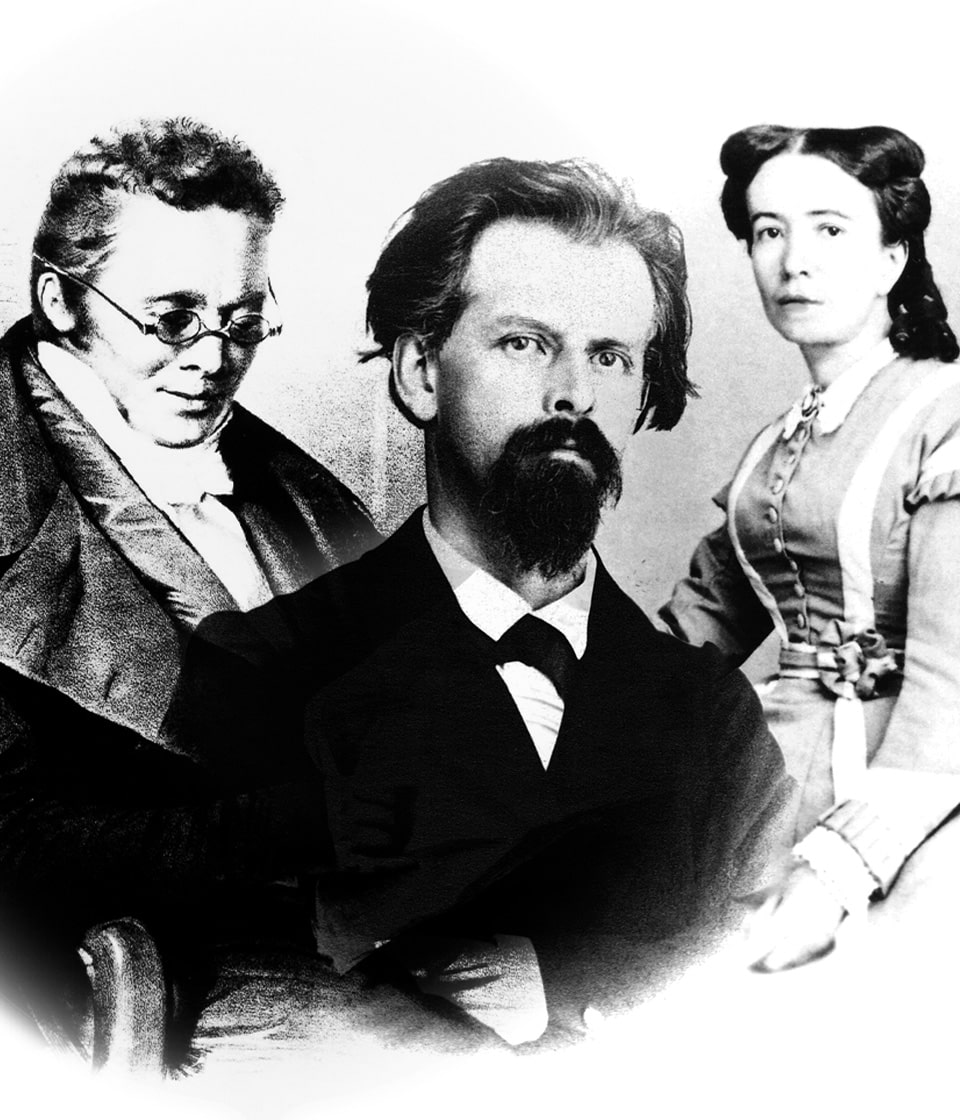 1791, Geneva
The epic saga begins
1791, Geneva
The epic saga begins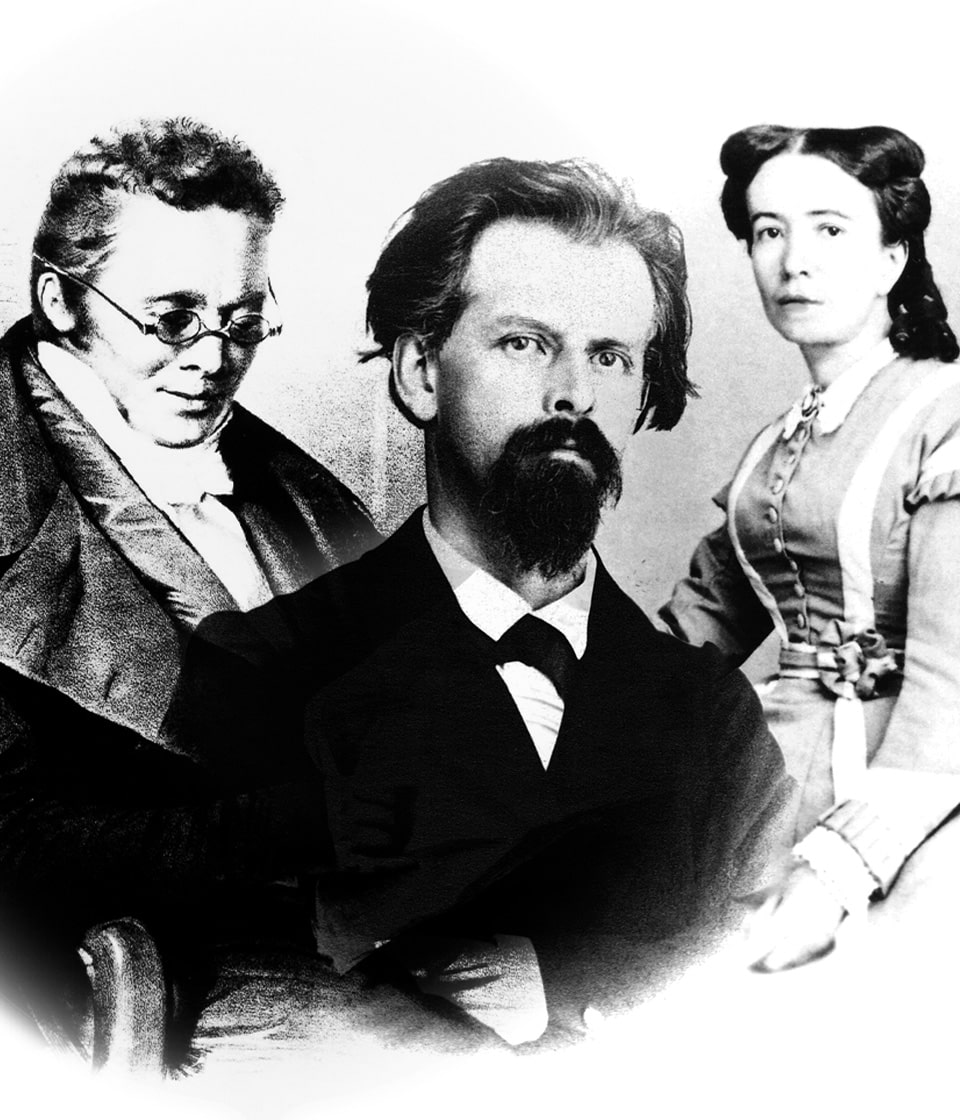 When Constant Girard and Marie Perregaux married in 1854, they joined more than two Swiss watchmaking families in La Chaux-de-Fonds. They soon created an Atelier in 1856 at the vanguard of horological innovation that would set bold new standards for watchmakers worldwide in a tradition that continues today. Yet, there is another union in our epic saga. In 1906, Girard-Perregaux acquired the Maison of Jean-François Bautte of Geneva. We trace our roots back to Bautte's first launch in 1791 with designs that revealed the beauty of time with extraordinarily thin, jewelled cases.

From Queen Victoria of England to the French writer, Alexandre Dumas. From Chinese emperors to Indian maharaja, Bautte's designs captured the imagination of royals and aristocrats worldwide. With the merger, these prestige clients now turned to Girard-Perregaux for the timepieces of their fantasies. Girard-Perregaux would go beyond Bautte's enamel, pearls and gemstones to make the technical elements of watches works of art. The merger set in motion two centuries of Haute Horological excellence, bridging aesthetics and functionality to reveal the value of time. A tradition that continues to this day from our Manufacture in La Chaux-de-Fonds.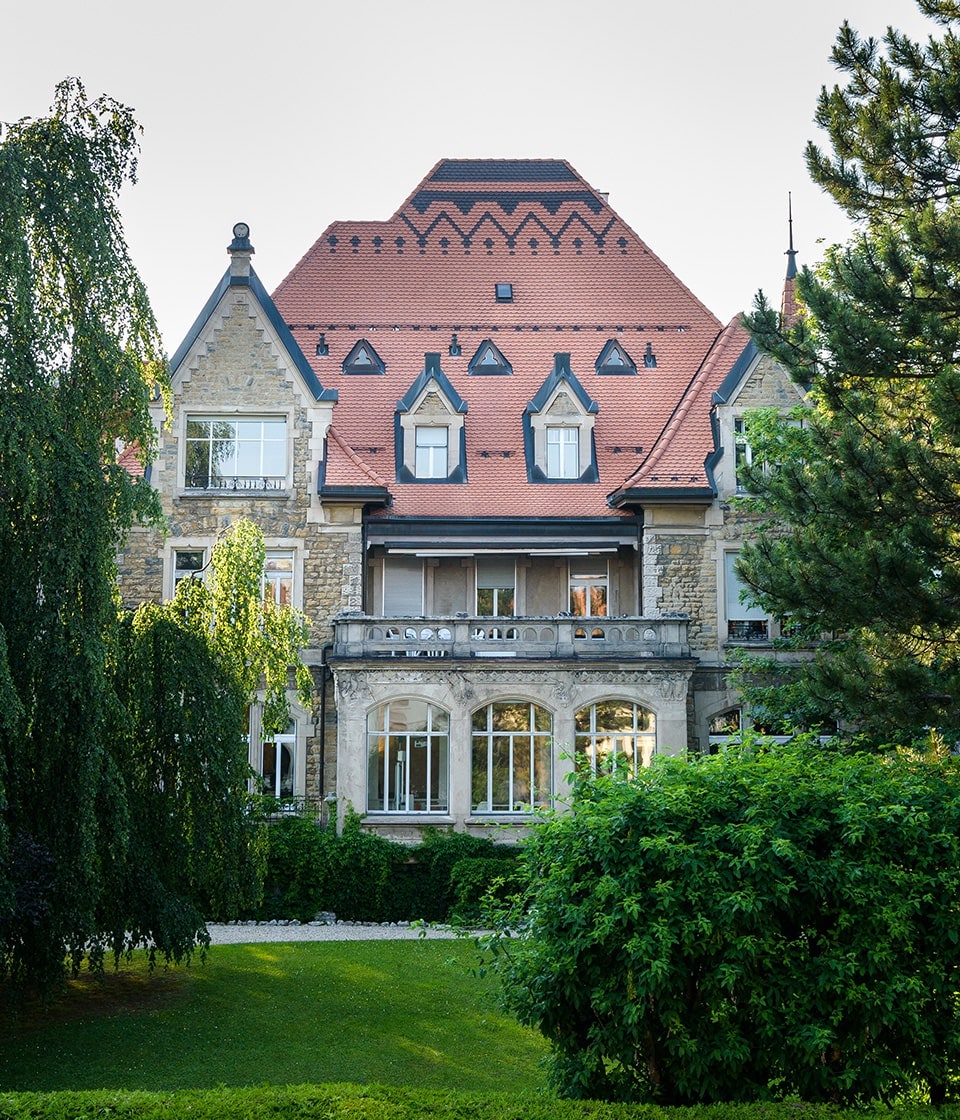 Manufacture status
La Chaux-de-Fonds
Manufacture status
La Chaux-de-Fonds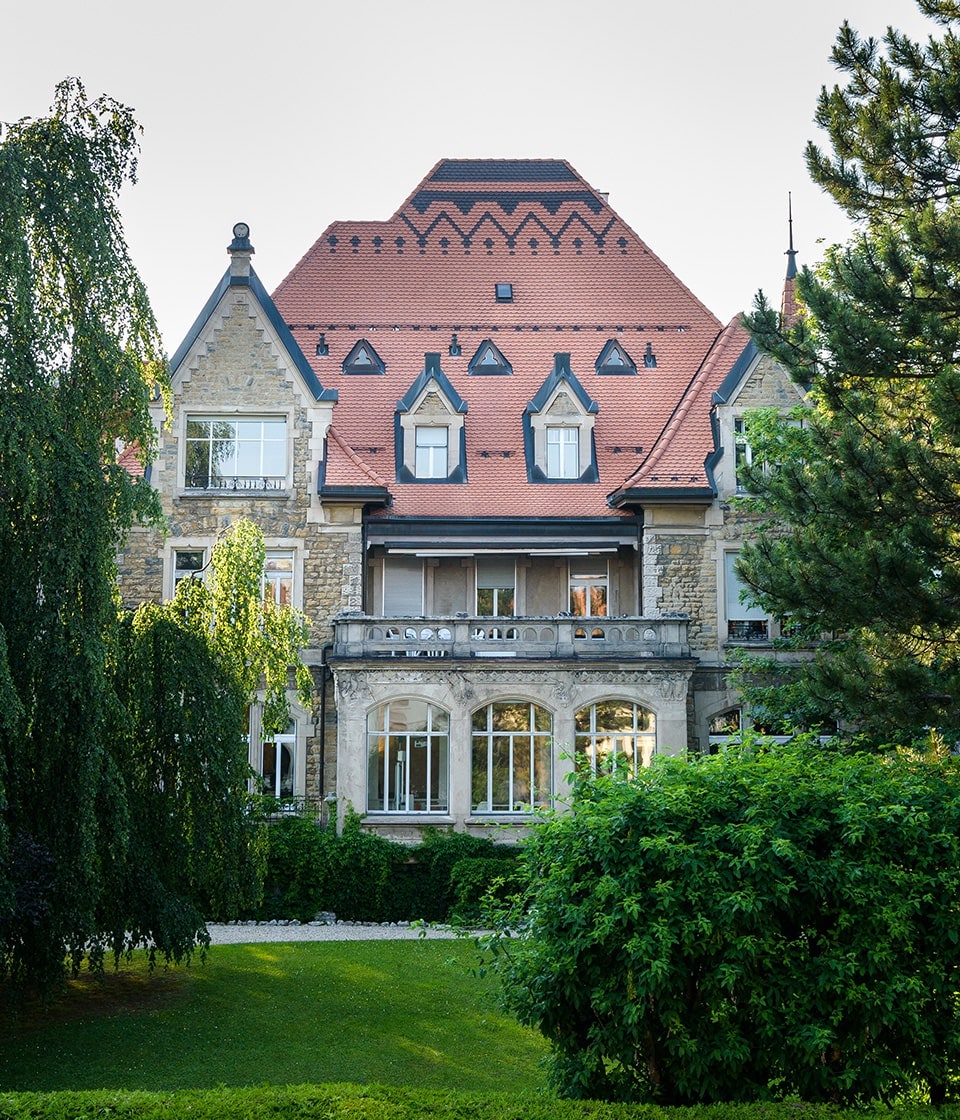 Surrounded by the Jura mountains in Western Switzerland, our Manufacture in La Chaux-de-Fonds is the heart of Girard-Perregaux. A city elevated to UNESCO World Heritage status for its excellence in watchmaking.

Girard-Perregaux is one of the rare watchmakers in Switzerland to retain Manufacture status for over two centuries by mastering all the required horological skills in-house. Our Manufacture is both a source of pride in our heritage and wonder for our master watchmakers. The incredible landscapes, elegant architecture and storied history of the region are a continuous source of inspiration for us all.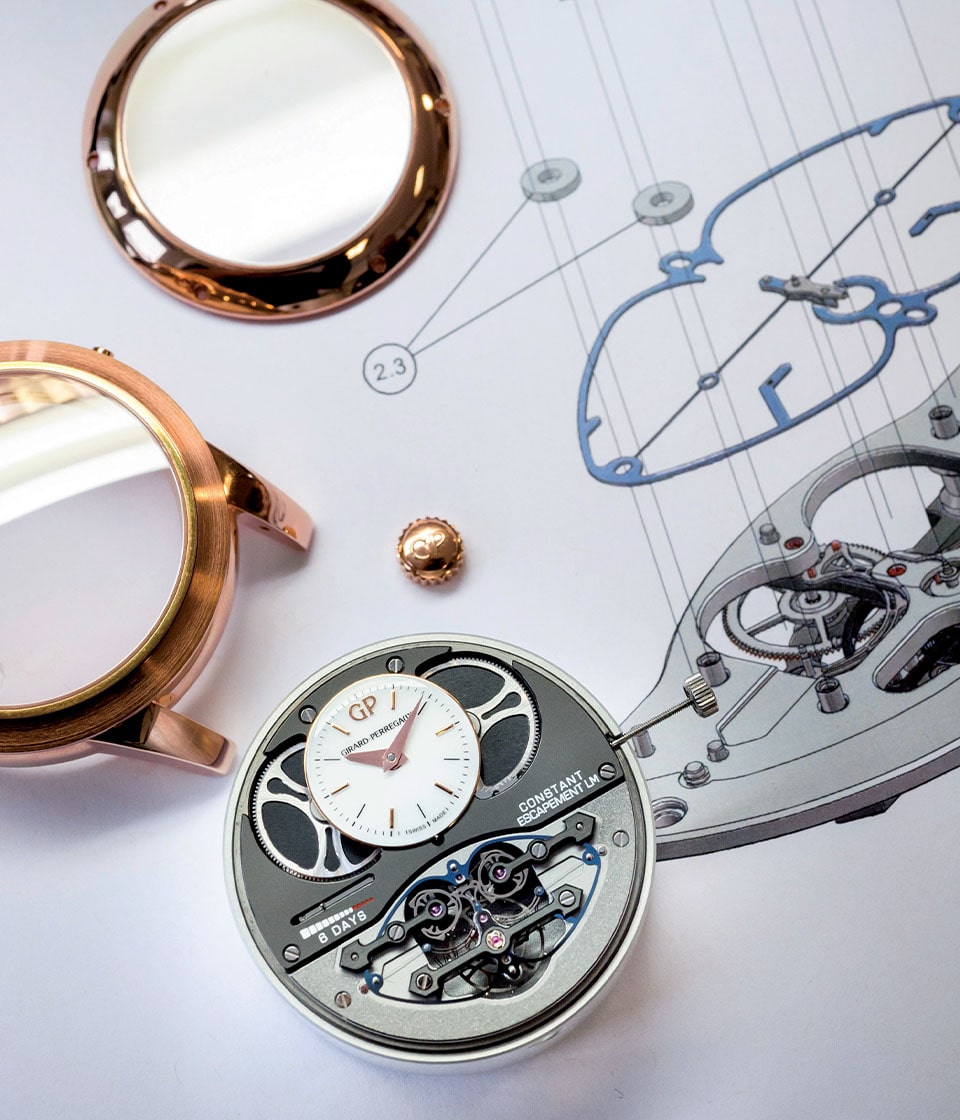 A timeless tradition of
INNOVATION
A timeless tradition of
INNOVATION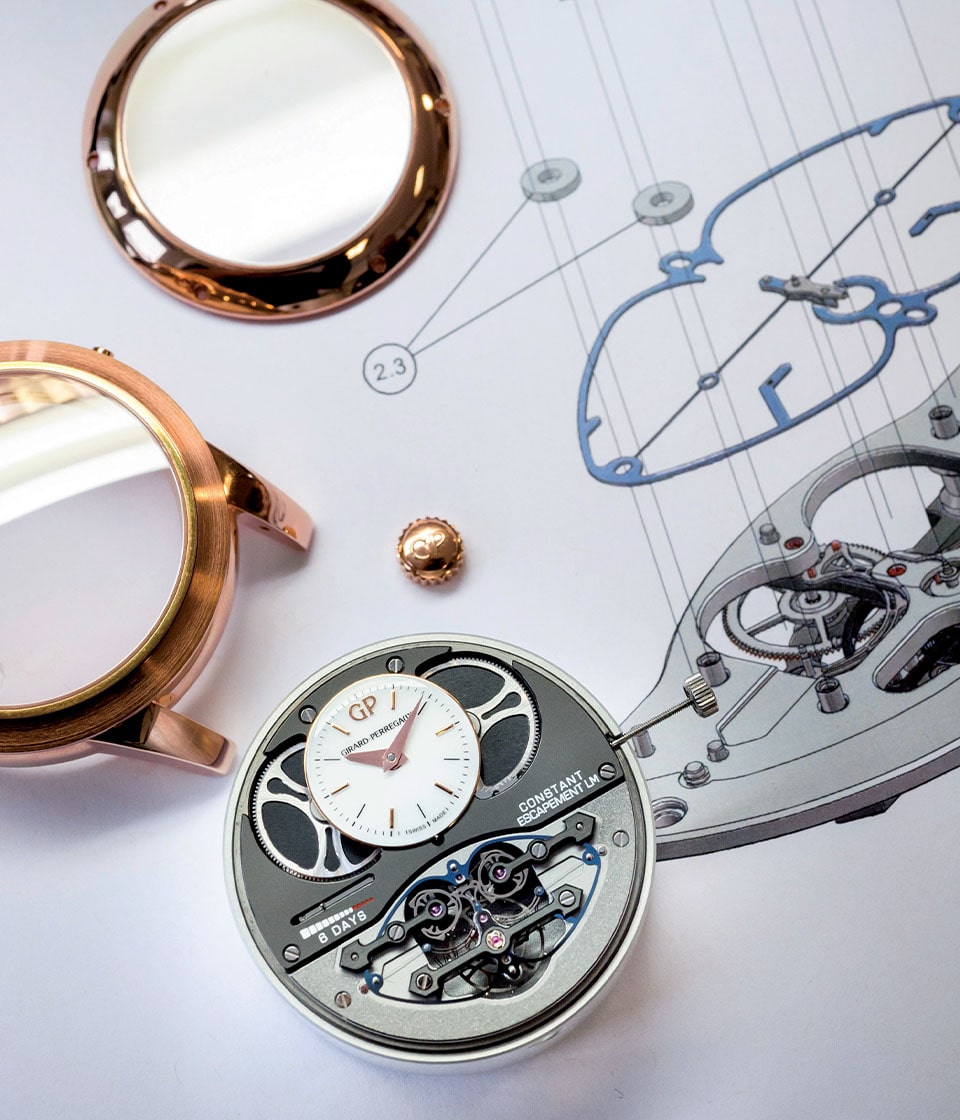 Since our founding we have audaciously turned the world of watchmaking upside down – literally – to reveal the art in precision engineering. Our Tourbillon 'With Three Gold Bridges' transformed Bridges in the 1860s from just a technical element into a visible and integral part of the timepiece, a first in watchmaking. Presented as a first prototype in 2008 and manufactured as of 2013, the Constant Escapement L.M. is yet another technical revolution from Girard-Perregaux featured in the Bridges collection. It solved a problem occupying our profession for over five centuries: that of constant force. The watch was awarded the "Aiguille d'Or" at the Grand Prix d'Horlogerie de Genève.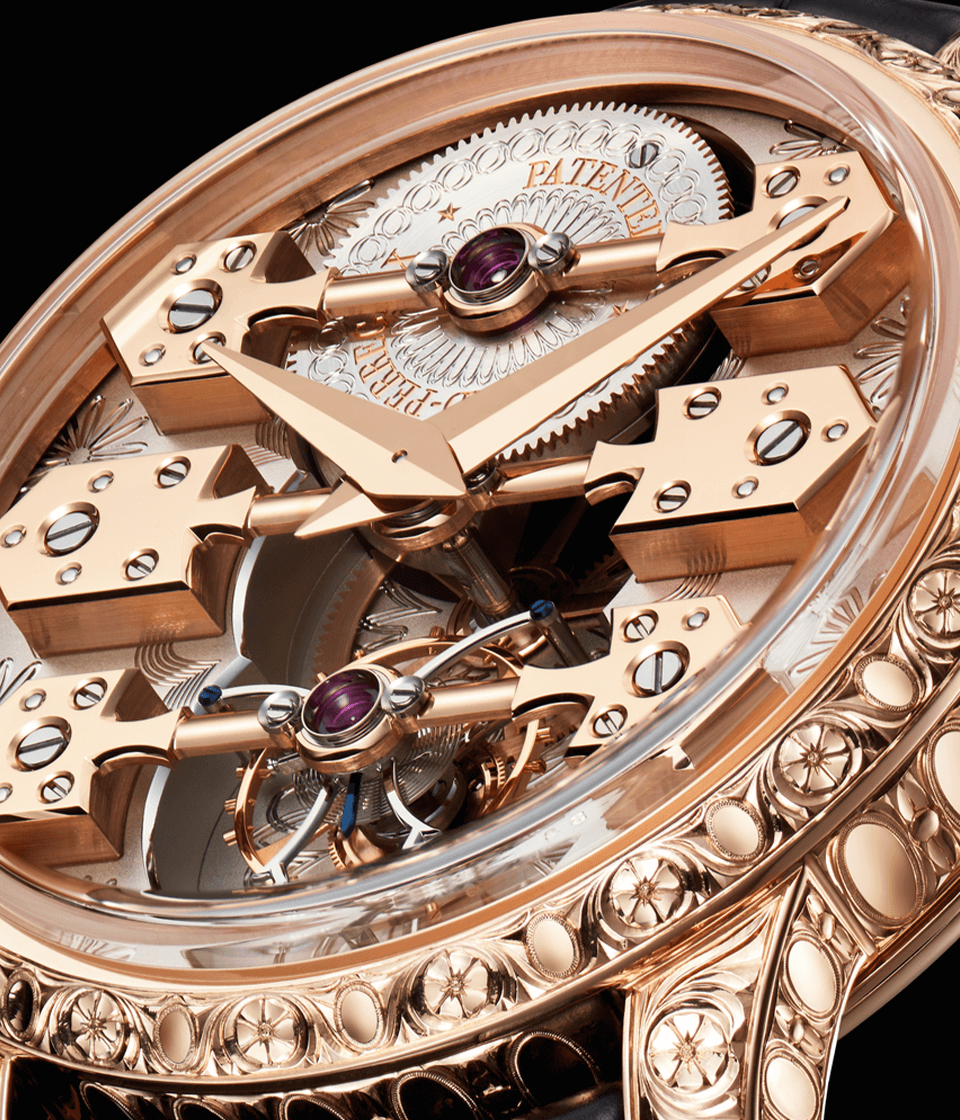 In the spirit of
REINVENTING OUR ICONS
In the spirit of
REINVENTING OUR ICONS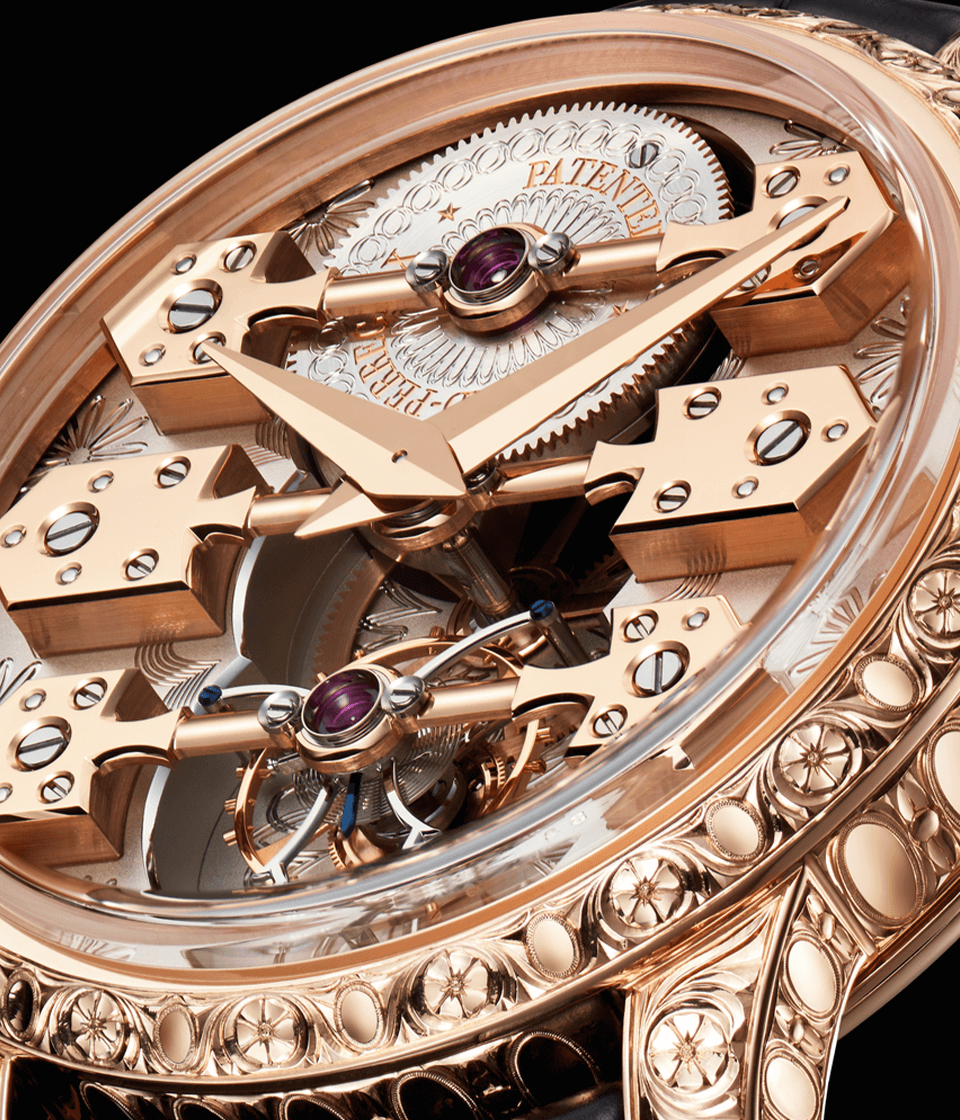 In 1975, Girard-Perregaux was one of the first companies to offer a sporty elegant model equipped with an octagonal bezel and an integrated steel bracelet. The design of the Laureato has since become known for its enchanting interplay of straight lines and curves and blend of polished and satin-brushed surfaces. It embraces the notion of 'sporty-chic' while also complementing formal attire. Its extraordinary versatility has led to its iconic status. To celebrate our bicentenary in 1991, we presented a version of the Tourbillon with Three Gold Bridges, miniaturised to wristwatch size. In the spirit of reinventing our icons in 2016, we launched the sublime Haute Horlogerie piece La Esmeralda Tourbillon in tribute to our original 19th century pocket chronometer.

In 1889, the original La Esmeralda Tourbillon was awarded a gold medal at the Paris Universal Exhibition. The Tourbillon we reinvented in 2016 to mark our 225th anniversary is yet another watchmaking icon for all brands and for all ages. Continuing our tradition of bridging between technical mastery and iconic design, this year we revealed the Free Bridge. It pushes the boundaries of design and innovation with 'aerial bridges' and a sculptural movement featuring an escapement made of high-tech silicon.