The product of shared know-how
NEO BRIDGES ASTON MARTIN EDITION



The Neo Bridges Aston Martin Edition, a watch that perpetuates some of the design ideas found on former collaborative watches, also delivers a new, fresh-faced appearance, suffused with considered details. It eschews a conventional dial to reveal its inverted movement, the Calibre GP0840000-2164, a configuration that brings components usually found to the rear of the watch, relocating them to the front. Upholding the spirit of the Bridges collection, the functional components on this model contribute to its overall visual allure. The Neo-shaped bridges support the gear train and balance and the wearer is invited to witness several parts in conversation, working together to impart time. Upholding Girard-Perregaux tradition, the arrangement of movement components confers symmetry, thereby delivering a harmonious appearance.
A DB12 for the wrist
Peruse the sinuous contours of the Aston Martin DB12, the world's first super tourer and its intent is clear: to cover great distances in comfort while making each mile a thrilling and memorable experience. The Neo Bridges Aston Martin Edition shares the same philosophy. Each contour and every facet are the result of protracted thought, intended to deliver performance and a sublime wearer experience. The various materials have been combined to ignite the soul and seduce the wearer with their tactile feel. For example, the strap is black rubber with a fabric effect and is enlivened with green stitches. Fitted with a titanium DLC triple folding buckle, the strap not only cossets the wrist wonderfully but also looks stunning.
Patrick Pruniaux, CEO of Girard-Perregaux
"This was not merely a case of putting Aston Martin's name on one of our watches. This watch is the impressive outcome of two companies synergistically working together."
Discover More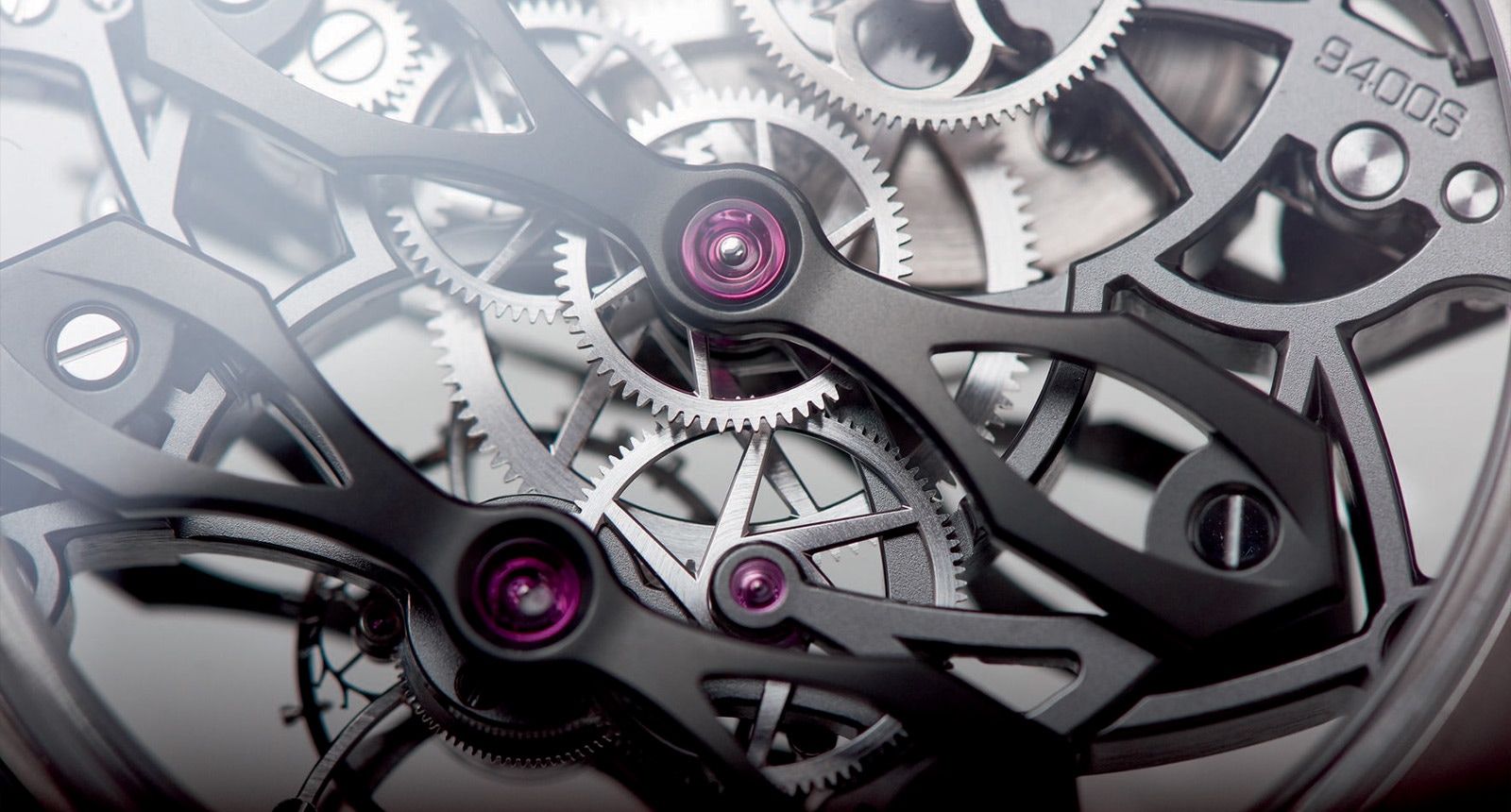 AT GIRARD-PERREGAUX, WE WORK IN CONCERT WITH ASTON MARTIN, CONCIEVING FRESH IDEAS THAT TRANSCEND THE CREATION OF PRODUCTS, TO DELIVER JOY AND WONDERMENT.
Settling behind the wheel of an Aston Martin or affixing a Girard-Perregaux watch to your wrist, evokes a similar feeling of joy. Both marques operate within the rarefied world of excellence, constructing rare objects that confer lasting appeal and emotions.

Style, elegance, performance, and above all a shared desire to embody passion in the cars and timepieces we produce is what defines our synergistic union. Our partnership is underpinned by friendship and a shared understanding of luxury. Indeed, by working together, sharing our ideas and know-how, we advance together, delivering exceptional creativity and excellence within our respective fields.
Heritage

Like Aston Martin, we are a leader in our field and similarly we draw on our heritage and experiences to deliver excellence. We both have illustrious histories that are punctuated by iconic moments. The watches and cars that have resulted from this vision are instantly recognisable today are now considered design classics. They demonstrate how the past continuously informs the present and the future.
Craftsmanship


In order to bring extraordinary ideas to life, we rely on advanced, technical expertise. However, in our desire to move forward, it is often necessary to draw on centuries-old skills and the talents of our respective teams, imparting flawless craftsmanship to the products we make. Every car and every watch is the product of an attentive eye and the loving touch of a skilled artisan. Whether it's a super car or a fine watch, the lustre of time-served expertise is clear to see.
Passion


Similar to the experience of driving an Aston Martin car, we believe that wearing a Girard-Perregaux watch should be a memorable experience, infused with intense emotions. Like Aston Martin, we share the desire to deliver exceptional creativity, constructing objects brimming with passion. We understand the importance of design and recognise the virtue in crafting objects that promise lasting appeal.