The story of Onyx
Infinity. Enter a world of infinite possibilities for our timeless classics. We have pushed the boundaries of modern living to reinvent our icons proposing you today not less than seven references in exceptional black onyx.
Infinite passion, commitment, craftsmanship are the keywords at the core of this new series, highlighting our know-how and expertise in using contemporary materials to dress up timepieces among the Bridges, Laureato, 1966 and Vintage 1945 collections.
Every detail of the Infinity Edition is fixed with exquisite precision. An act of tribute to 230-year Swiss tradition of haute horological excellence.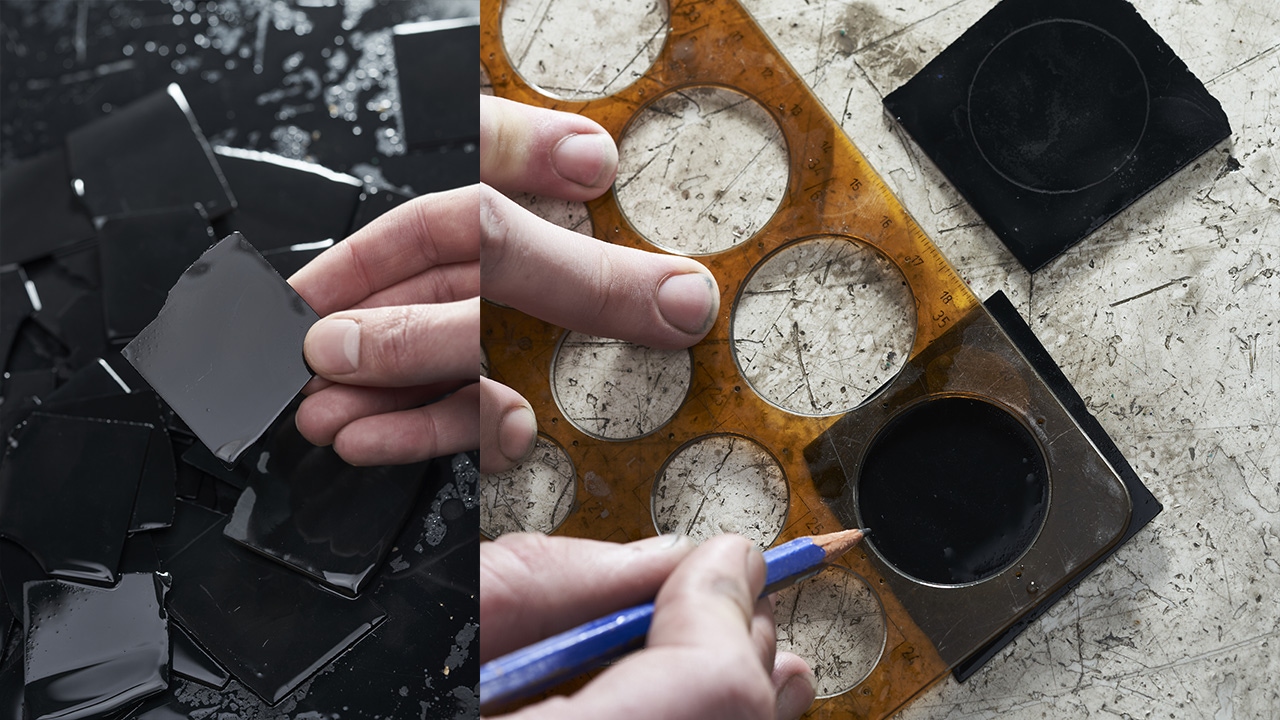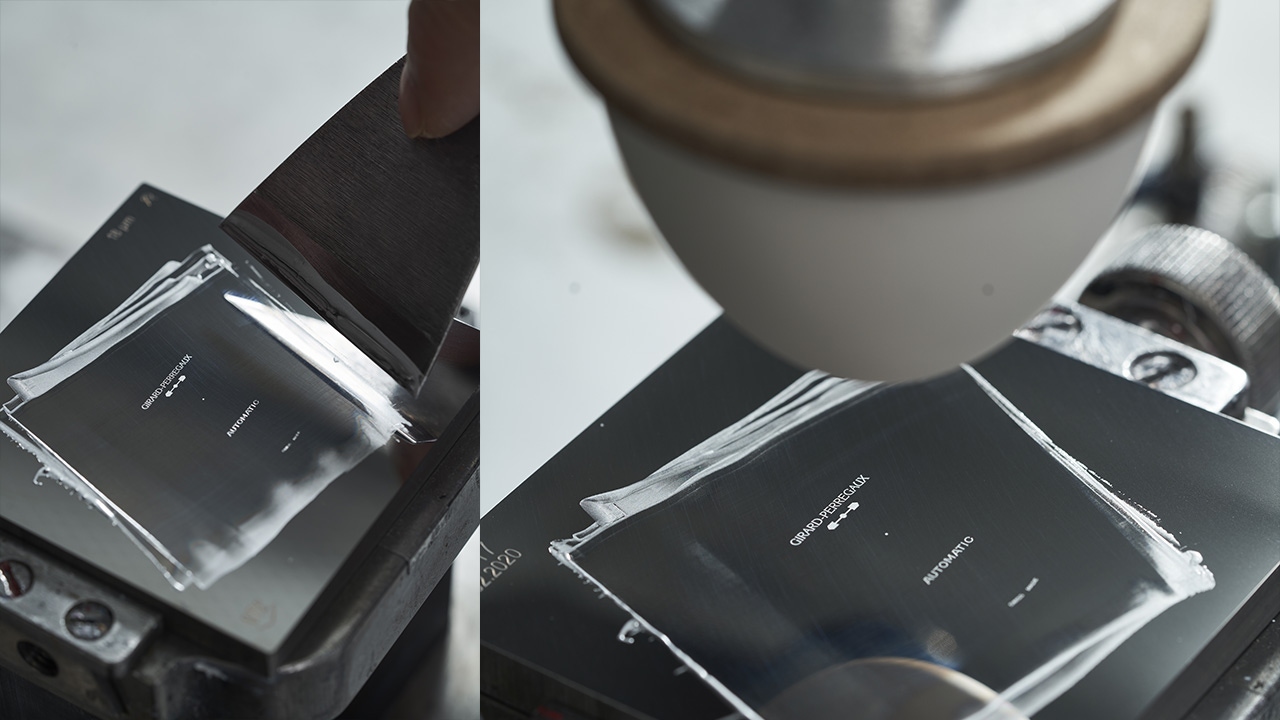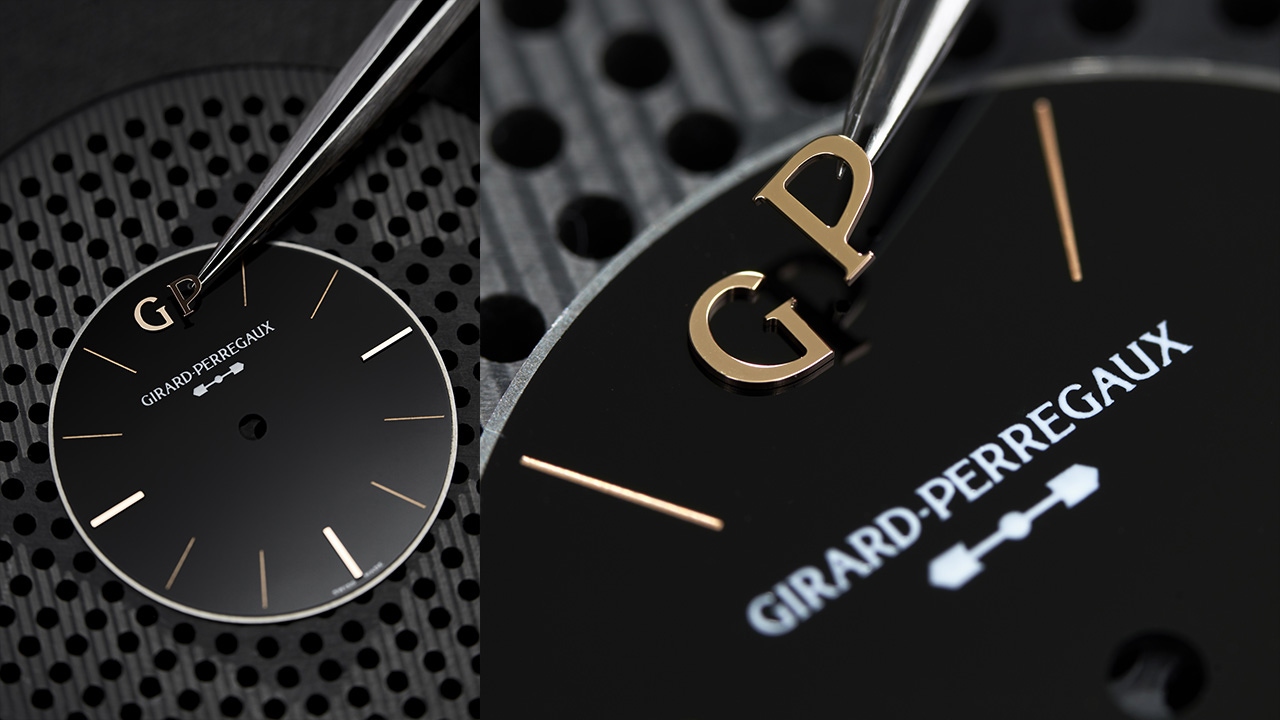 A PRECIOUS AND ELEGANT TWIST ON LIMITED TIMELESS MODELS
Reinterpreting the traditional codes of its timeless collections, the Girard-Perregaux 2020 Infinity editions brings to the light a handcrafted and precious material: onyx.
The manufacturing process of onyx dials requires different know-how and exceptional skills. From the beginning to the end of the process, no less than 15 operations were necessary to produce the dials.
Moreover, the use of pink gold has been chosen to create the most refined contrast with the deep black onyx dial. The combination of these two noble materials confers to our timepieces the most elegant and assertive aesthetic.


ENTRY CONTROL
Over a period of 8 weeks being submerged in a chemical black liquid, the onyx plates need to be dried for more than a week under a vacuum drying process. At this stage, onyx plates are about 4mm thick.
The onyx plates are then carefully checked by pouring water over it and selected one by one in order to correspond to the stringent Girard-Perregaux quality criteria.
From the beginning to the end of the process, the skills to manipulate and shape the onyx dials need to be extremely high.
THE CUTTING WORKSHOP
Once the perimeter of the plate is delimited, the onyx plates are cut out and then rounded by hand on a polishing disc. At this stage, the craftsman doesn't wear gloves in order to better feel the material he is working with.
THE POLISHING WORKSHOP
The onyx discs are sent to the mechanical workshop to be precisely cut and machined. Their thickness is reduced from 4mm to 0.4mm, which corresponds to the thickness of a knife blade, requiring an extremely cautious manipulation. Afterwards, the dials are hand-cleaned and checked again before final polishing, to reach a "mirror effect" appearance.
THE DECAL WORKSHOP
The dials arrive at the decal workshop where GP elements of identity are affixed to the dial while others will be applied. The GP logo and indexes are made of pink gold to bring elegant contrast to the global aesthetic of the dials.